Stories from the bog
Bringing gentle tales to children ages 2 to 9 (or 99!). 
Inspired by an ancient peat bog on an island in Puget Sound, Whispering Bog books are populated with friendly forest denizens and imbued with the special magic that happens when the natural world speaks... and we take the time to listen.
Enchanting tales for our times
How can a warm, nurturing, lovable mouse save the world?
One sweet story at a time.
 
Actually, Mindy Mousekins doesn't know that's her mission in life. She simply goes about her business, touching others with her every day adventures in the forest. Like all of us, she learns about her world through trial and error. She confronts her fear when a scary, scratchy sound keeps her up at night. And, a chance encounter with Jack Frost makes her appreciate the beauty and wonder of frosty window panes. She stretches for the juiciest out-of-reach blackberry, and when she takes a tumble, she makes the best of it with humor and joy. While gentle, these stories also speak to the many conflicts that young children commonly encounter.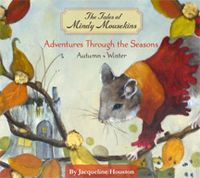 As told by storyteller Jacqueline Houston, these enchanting tales resonate with children and parents alike. Listen and you'll see…there is a bit of Mindy Mousekins in all of us.  
The Tales of Mindy Mousekins
Adventures Through the Seasons,  Autumn - Winter
Release date: August 5, 2014. Order now! 
Learn more about
Whispering Bog Books